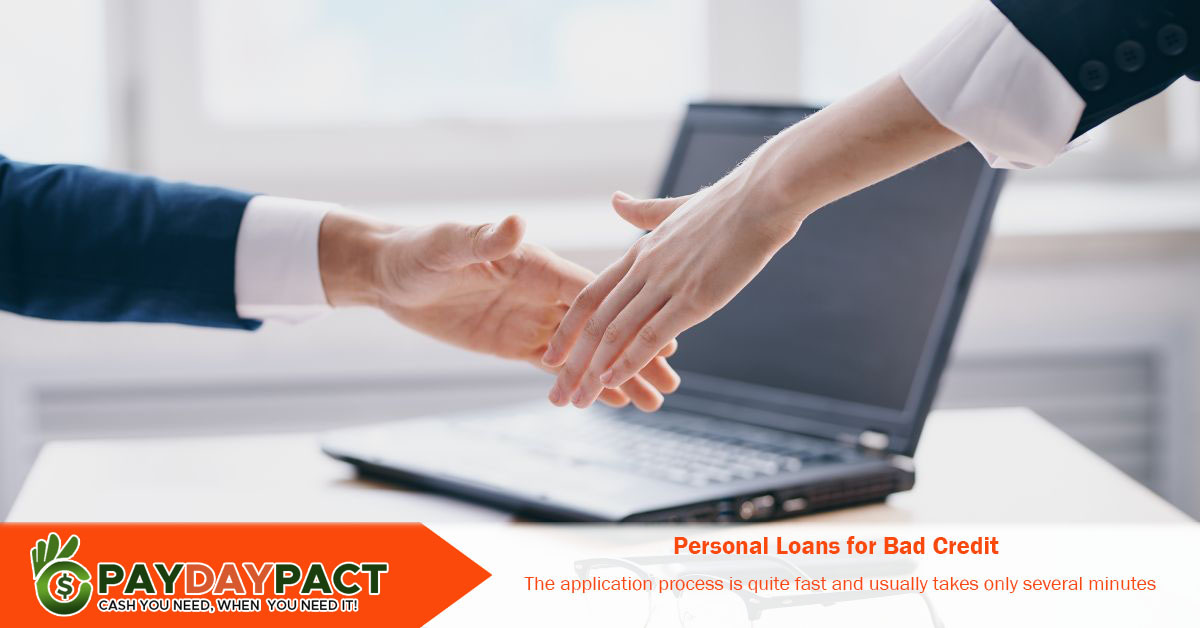 Personal Loans for Bad Credit – No Credit Check
Personal loans for bad credit are meant for those who are looking for a borrowing option to pay urgent bills or unforeseen expenses. This is a consumer loan granted for personal, family, or household use, as opposed to business or commercial use.
It could be used for medical or educational bills, vacation expenses, or home improvements. This type of personal loan can either be unsecured or secured by the asset purchased or can be guaranteed by a third party.
Unsecured or signature loans are advanced on the basis of the borrower's credit history and ability to repay the loan from your income. Repayment is usually in fixed-amount installments over a fixed term. There are different types of individual loans aimed at different situations. Some of them are consolidation loans, loans for good credit, bad credit loans, loans with co-signers, secured and unsecured personal loans, and loans for home improvement.
Unsecured?
The loans are provided both on a secured or unsecured basis. Usually, poor credit customers choose unsecured loans, so they are not required to provide guarantees against the amount they are borrowing.
This type of loan is usually taken out as a small loan, and the borrower won't face the danger of losing their home if they are unable to keep up with the repayment. However, unsecured loans do not provide any guarantees for the lender. That is why the interest rates and fees are higher than the rates of the secured loan.
Secured?
Another type of personal loan is a secured loan. This kind of loan ensures that the money borrowed is secured with an asset.
That is why it is the appropriate option for those who want to borrow larger amounts of money, such as to make a big purchase or to consolidate existing debt.
The loan lender will provide an amount that is partly determined by the cost of the asset. The customer is borrowing against it. This is usually a piece of property, and it may be lost if the borrower is unable to repay the secured loan.
How to compare personal loans?
To choose the most appropriate type of loan according to one's financial needs, applicants have to compare the loans' terms. Opt for the most suitable interest rates offered. Typically, low-rate loans are advertised as secured loans, but it isn't impossible to find low-interest personal loans with no credit check.
Are there loans online?
With the advance in technology, it is now possible to apply for all types of cash online. There are online lenders who advertise instant personal loans with the promise that their clients will receive the amount almost instantly if they fill out a personal loan form online.
Those instant approval loans are usually aimed at those with bad credit. The so-called "bad credit" loans may benefit those with a poor credit past. Of course, customers should always be wary of loans for bad credit that have unmanageable interest rates. Also, when taking out online loans, it is easier to miss important information from the term and conditions of the lender. It should also be noted that there are also peer-to-peer loans that are available only online.
Short-term loans
Applicants can choose between long-term or the more common short-term loans. The second type of loan often comes in the form of payday loans online which are most suited to those who are in urgent need of money before their next payday.
Borrowers are lent rather small amounts that usually have to be repaid within one month. However, the loan customer should be aware of the high-interest rates usually associated with these loans. It is not impossible to get into a situation of unmanageable repayment, even in the case of taking out small same-day loans, in which case the borrower may need help with debt management.
Long-term personal loans
When it comes to the long-term, it should be noted that their providers usually require every borrower to secure the loan against their property. However, certain providers, such as banks, building societies, and online lenders, may allow their loans to stretch for up to 25 years.
Loan Calculator
Because taking a personal loan can be a complicated process, applicants are usually advised to use a  loan calculator. The calculator calculates how much they can afford to borrow. Loan calculators are a tool for letting people know what the lowest repayments they could be making and help them choose the cheapest personal loans most suitable for them are.
Pros of these loans
First of all, they are reliable, coming with helpful customer support that is available 7 days a week via phone, email, and chat. They are also transparent because the fees and rates are announced upfront. Unsecured loans need no collateral. Personal loans are flexible, depending on the terms the borrower chooses. They are secure, and no personal information will leak from the lender.
These loans are a financial tool for the consolidation of the borrower's credit cards and other debts. This means that such types of loans can be used to consolidate high-interest credit card debt into a single payment. At a lower interest rate and thus accelerate the debt's complete payoff. They may help the borrower improve his or her credit score. By moving revolving credit card debt to an installment loan. This will lower his credit utilization ratio and diversify the types of debt. There are different types of products that can fit your needs. A loan may be used to cover a major expense for debt consolidation, home improvement, or unexpected expenses.
Cons of these loans
Unsecured loans usually have higher interest rates than secured loans and some credit cards. If the borrower has an excellent credit score and is able to repay the debt. In 12 to 18 months, he may get a credit card that has 0% interest on balance transfers for at least a year.
Also, if the borrower owns a house, home equity loans often have lower interest rates than loans. However, there is always the danger of losing the house by putting it up as collateral.
There is an extended application process. The approval for a loan may last a few days. It may require more information than when getting a credit card.
How to decide whether this type of loan is right for you?
They are most effective when they are used as a part of a longer-term plan for improving the borrower's financial situation. Personal loans may be taken for consolidating debt to get out of debt more quickly. Another practical usage is borrowing for a wedding or a vacation. The borrower is confident that he can make the repayments on time. Using a range of interest rates and amounts so that he would be able to calculate the future repayment amount.
Is the application process for an individual loan complicated?
The application process is quite fast and usually takes only several minutes. The applicant can check the rates and sign the contract online. Afterward, the money can be transferred directly to the borrower's bank account, which may take only 24 hours.
Jamie Johnson is a freelance writer with a focus on business and finance who lives in Kansas City. She covers a wide range of personal finance themes, including credit card creation and construction, as well as personal and student loans. Her work has been featured in Business Insider, CO by the United States Chamber of Commerce, GOBankingRates, and Yahoo! Finance, in addition to contributing articles for PaydayPact.